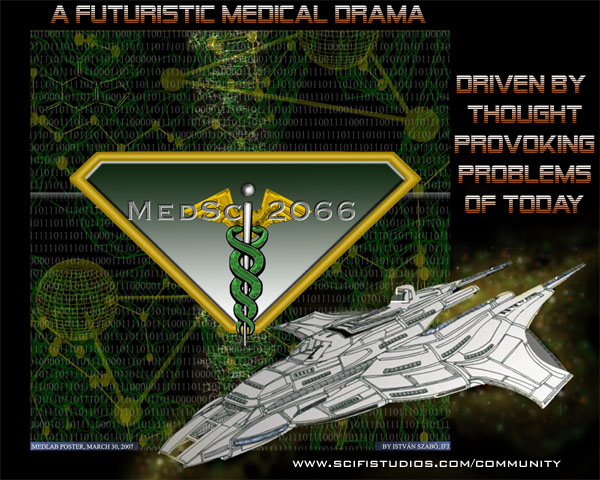 MedSci is a futuristic medical drama in space, driven by very real characters with thought provoking problems and action-packed adventures. This concept takes leading edge medical science and technologies of today and notches them up a level for innovative yet realistic tools, weapon, and gadgets. The moral dilemmas of genetic engineering and bio-cybernetic technologies come to a head in this future universe as different ideologies battle it out. This show is a unique blend of medical and bio-tech drama with action-adventure, including martial arts mystique.

Episodic stories with long-term threads woven in take place on a hospital and bio-research ship sixty years from now. Most of the plots are set in a region of space near mysterious aliens, the Fabru, who help Chiron in it's mission to find a cure for an alien plague threatening to wipe out humanity. Chiron's goal is endangered by aggressive aliens, the Tasla, who want the alien DNA all to themselves for the power it gives to their race.


This is the public interface for MedSci story development. I'll try to keep you informed, and answer any questions you might have.
A talented group of SFS members has been hard at work laying the groundwork for what we hope to see produced as a major new Science Fiction franchise, complete with games and toys. We've come a long way, but there's still a lot of work to do. The completed pilot is undergoing its final revision. Our designor Istvan Szabo has drawn most of the ships in the pilot, and others. The season one outline is sketched out, and fleshing out as we speak. The SFS members already involved have built the basics needed for the Medlab universe, but there are lots of details yet to be worked out, and episodes to write. If you're a writer, experience or aspiring industry talent, or just someone with ideas, we welcome your input. Don't be shy, drop me a PM or post on here.

We want to hear what you think. You can join the creative team, or simply voice your opinion. Tell us what you want to see. Make this your show, steer it the direction you would like it to go. The more people who contribute, the more likely this will be something we all want to watch.

Enjoy your browsing, and don't forget to visit our friendly Neighbours at Who Am I, Order of the Shadow, and stories that are just getting started in the "Basic Story Creation" area.